Sunohara Inn
The new resident who recently becomes the resident of Sunohara Inn.
(To be added...)
Family
The elder sister of Nana who apparently runs the Sunohara Inn after their grandmother's hospitalization. Due to her feelings for Aki, Nana often seen Ayaka as her competition for his teasing. Nevertheless, the sisters are in good terms with each other.
Others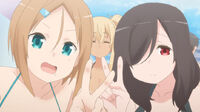 Mea is one of Nana's friends.
Maiko is one of Nana's friends.