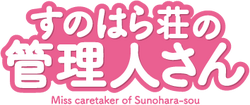 Sunohara-Sō no Kanrinin-san (すのはら荘の管理人さん Sunohara-Sō no Kanrinin-San, lit. Miss Caretaker of Sunohara-Sō) is a Japanese four-panel manga series by Nekoume, serialized in Ichijinsha's seinen manga magazine Manga 4-Koma Palette since 2014. It has been collected in three tankōbon volumes.
Synopsis
Shina Aki is constantly being treated like a girl due to his feminine looks so he decides to move to Tokyo to attend middle school in order to change himself. However what awaits him in his new home, Sunohara-sou, is the kind-hearted caretaker, Ayaka Sunohara. Along with the three female members of Aki's new middle school's student council, Yuzu Yukimoto, Sumire Yamanashi and Yuri Kazami.
And so begins Aki's new life in Tokyo while living with 4 girls at the Sunohara Inn... [1]
Media
Manga
Main Article:Sunohara-Sō no Kanrinin-san(Manga)
The manga tankōbon volumes was released under Ichijinsha since June 22, 2015. Until November, 22, 2017 there are three volumes in total to have been released[2]
Anime
Main Article:Sunohara-Sō no Kanrinin-san(Anime)
An anime television series adaptation by Silver Link is scheduled to air from July 2018.[3][4]
Reception
(To be added...)
Reference
External Link