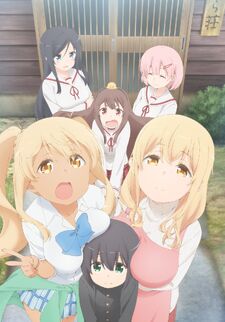 Sunohara-Sō no Kanrinin-san (すのはら荘の管理人さん), also known as Miss caretaker of Sunohara-sou, is a slice-of-life anime series by Silver Link based on the same named manga which is aired from July 5, 2018. The story focuses on Aki Shina, a young man who decides to come to Tokyo and enrolling himself into a nearby school while living at Sunohara Inn, a female only inn that is owned by it's owner Ayaka Sunohara while populated by female resident.
Credits
Staff
Creator: Nekoume
Chief Director: Shin Oonuma
Director: Mirai Minato
Anime Illustrator: Kazuya Hirata
Executive Producer: Gen Fukuaga
Anime Music: Ruka Kawada
Anime Studio: Starlight
Theme Songs:

Opening Theme: Bitter Sweet Harmony by Megumi Nakajima
Ending Theme: Sonna no Boku Ja Nai by Shino Shimoji
Cast
Music
The opening theme for the anime is Bitter Sweet Harmony, performed by Megumi Nakajima who is Maiko's Seiyuu.
Episode
No.
Title
Romaji/Kanji Title
Original airdate
01

"Spring Breeze, Entering Tokyo, Miss Caretaker"

"Harukaze joukyo kanrinin-san"
(はるかぜ 上京 管理人さん)
July 5, 2018
02
"Special Training, Snip-Snip, Something Scary"
"Tokkun choki choki kowai mono"
(特訓 ちょきちょき 怖いもの)
July 12, 2018
03
"Senpai, Change of Clothes, a Boy"
Senpai o kigae otoko
(先輩 お着替え おとこのこ)
July 19, 2018
04
"Start of the Rainy Season, Weddings, Lap Pillow"
"Tsuyuiri Kekkon Hizamakura"
(梅雨いり けっこん 膝枕)
July 26, 2018
05
"Watermelon, a Teacher, Being Drunk"
"Suika Sensei Yopparai"
(西瓜 せんせー 酔っぱらい)
August 2, 2018
06
"JK, Swimsuits, Summer Break"
"Jieke Mizugi Natsuyasumi"
(じぇーけー 水着 夏休み)
August 9, 2018
07
"Ghosts, Homework, Massage"
"Obake Shukudai Massāji"
(お化け 宿題 まっさーじ)
August 16, 2018
08
"Ear Cleaning, Lost Child, Fireworks"
"Mimikaki Maigo Uchiagehanabi"
(みみかき 迷子 打ち上げ花火)
August 23, 2018
09
"Sweet Potato, Nursing, Poster Girl"
"Yaki imo Kanbyō Kanban musume"
(やきいも 看病 看板むすめ)
August 30, 2018
10
"Costume, Penguins, Pretend Sister"
"Kasō Pengin Ane-gokko"
(仮装 ぺんぎん 姉ごっこ)
September 6, 2018
11
"Invasion, Sickly-sweet, Hospitality"
"Shūrai Betaamai Omotenashi"
(襲来 べた甘 おもてなし)
September 13, 2018
12
"Heated Table, Year's End, Santa Claus"
"Kotatsu Nenmatsu Santa-san"
(こたつ 年末 サンタさん)
September 20, 2018
DVD/BD Releases
External Site